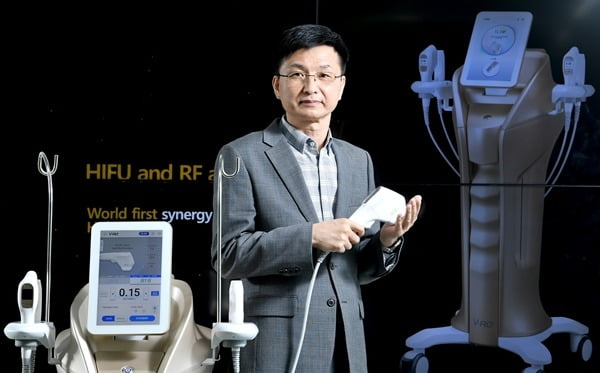 Hironic Co. Ltd (6,700-0.45%) has been succeeded in obtaining permission to sell its new product "PicoHi" in the U.S. Hironic obtained PicoHi's pre-market license (510k) from the U.S. Food and Drug Administration (FDA) on the 19th.
510k can be received by proving its functional similarity with existing commercial devices. It can be sold in the U.S. after approval of 510k. PicoHi also received a European Medical Device Item Permit (CE-MDD) in June.
Hironic CEO Park, Seok-kwang, who met at the Yong-In headquarters in Gyeonggi-do on the 25th, said, "We will participate in American and European conferences or exhibitions in next year when COVID-19 is alleviated."
In addition to these countries, some are discussing distribution exclusive agreements. It is an area where local sales are possible with the permission of PicoHi such as Korea and Europe. PicoHi obtained a medical device manufacturing license from the Ministry of Food and Drug Safety(MFDS) in January year of 2021.
PicoHi is an Nd;yag laser surgery device that removes pigmented particles such as freckles and tattoos with pico-second(PS) from the skin. Pico-second is "one trillionth of a second." This means that the laser irradiation interval is one trillionth of a second. This is 1,000 times shorter than nanoseconds (1 billionth of a billionth), which were mainly used in conventional laser devices.
It is explained that the shorter the irradiation interval, the more powerful shock waves are generated, and the smaller the pigment particles can be split. If the particles become finer, it is easy to remove them. CEO Park compared, "If nanosecond makes rocks into gravel with blunt needles, pico-second splits gravel into sand with a thin needle."
Hironic is not the first to develop and make a pico-second laser device. He emphasizes that the core of PicoHi is 300 Pico-second.
The shorter the same pico-second, the smaller the particle. However, laser equipment must also evolve. CEO Park said, "The most ideal speed that can be implemented with equipment that is currently commercialized at home and abroad is 300 pico-seconds," adding, " PicoHi stably outputs 300 pico-seconds for a long time."
It also plans to focus on selling another new focused ultrasound stimulation system device called "V-Ro," which was released in Korea in August. V-Ro is a device that cross-irradiates focused ultrasound (HIFU) and high frequency (RF) with one hand-piece. Focused ultrasound is a high heat generated when ultrasonic energy is collected in one place, helping to improve skin elasticity by contracting the fascia layer (SMAS) between fat and muscles in the skin. A representative product is Ulthera of German company Mertz.
However, HIFU shocks the subcutaneous fat layer, accompanied by prickly pain. CEO Park said, " HIFU requires a break (tem) between investigations, and V-Ro relieves pain by shooting high frequencies that have a relaxation effect on skin muscles between focused ultrasound."
Hironic has applied for sales permits in the U.S. and Europe under the product name "New Doublo."
This year's sales are expected to exceed 20 billion Korean-Won based on consolidated financial statements. Last year, sales were 13 billion Korean-Won. Hironic posted sales of about 14.3 billion won by the third quarter of this year, including 6.4 billion Korean-Won in the third quarter. This is an increase of 55% compared to the same period last year-on-year. The cumulative operating profit in the third quarter increased by about 270% to 2.5 billion Korean-Won. It is explained that it recovered its growth from the aftermath of COVID-19 last year.
CEO Park said, "As there are no special negative factors in the fourth quarter, we expect to achieve more than three quarters of results," adding, "We will be able to achieve higher targets next year than this year when the foundation for new products will be established."
Plans for mid- to long-term growth are also underway. Hironic is building a second plant in Osong Biopolis District, Cheongju-si, Chungcheongbuk-do, with the aim of completing it early next year. It has a land area of 7,000㎡ and a total building area of 1,292㎡. The production capacity (KEPA) is expected to more than double. Plant 2 is scheduled to operate in earnest in the second half of next year.
It is also seeking new businesses. CEO Park said, "We are looking for the company that will be a helper for new businesses other than medical devices."​