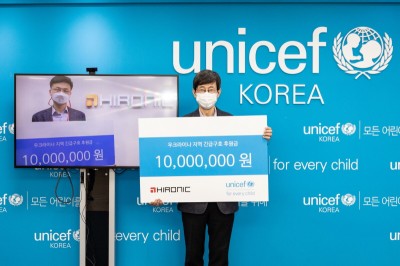 Hironic donates 10M Won to the Korean committee of UNICEF, supports business for Ukraine children.
​Hironic said on 15th that it has donated 10 million KRW to UNICEF's Korean Committee to help 7.5 million children who are threatened with their life and security by Ukraine's prolonged armed conflict.
Hironic, which currently is thriving with HIFU-RF synergy: "New Doublo" and 300ps Pico laser: "PICOHI", has been doing social contribution activity for ESG management. It has donated some of its profits since 2011, and recently, environmental pollution and climate change around the world have emerged as serious social problems, therefore has a history of singing contracts of selecting eco-friendly product companies as investment destinations to participate in carbon emission reduction and eco-friendly support activities.
​
The donation will be used for treatment, education, learning materials, and drinking water for Ukrainian children who are suffering from conflict.
"Children are dream and hope for the future," a Hironic official said. "Many children who are threatened by Ukraine's armed conflict are asking for help, and I hope this donation will help them regain their daily lives as soon as possible to have a happy life."​​