CSR Activities
HAPPY LIFE with HIRONIC

Hironic is engaging in genuine and differentiated social contribution activities in order to promote a happy life for all through its growth.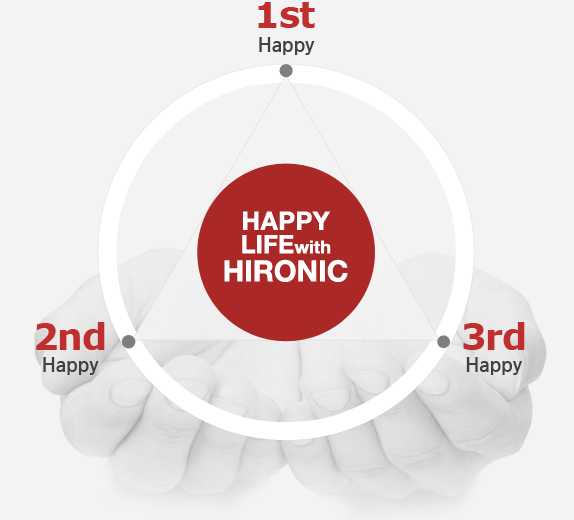 1st

Happy Happiness to nurture human resources that will lead our society

Since 2011, Hironic has been donating 1% of its net profits as a scholarship to the Korean Minjok Leadership Academy in order to create a happier society and foster leaders that have national awareness.
In particular, as a result of Hironic's remarkable growth, the scholarship amount, which has begun from 2011, increased annually, and total of KRW 159 million have been donated to 29 students so far. Hironic's growth will continue well in the future. Furthermore, Hironic will be able to reward scholarships to more number of greater students, thus contributing in making our society happier to live.

2nd

Happy Happiness to practice sharing for our neighbors

After moving its headquarter to a new place of Yongin dongcheondong U-tower, Hironic is planning another leap through raising its work efficiency. Facing to the new era of Yongin, as a purpose of improving employees' health and helping disabled people's independent, Hironic is providing free breakfast to every employees, and the breakfast are being purchased from welfare facility for disabled locaed in Yongin. Hironic will continue to participate in various charity activities in order to help poor people around us, and fulfill social responsibility while achieving company growth

3rd

Happy Happiness to make our life and living environment beautiful

Hironic values an environment that makes peoples' lives more beautiful and enriched. To do its part, Hironic will organize a contest to garner ideas to help spread the eco-friendly lifestyle and culture andalso support environmental education and related groups. Hironic will also help develop the 'Eco Healing Village Project' and promote its 'Love Environment in Everyday Life' campaign for its employees. By doing so, Hironic will strive to fulfill its social responsibility in practicing and spreading environmental protection and preservation.