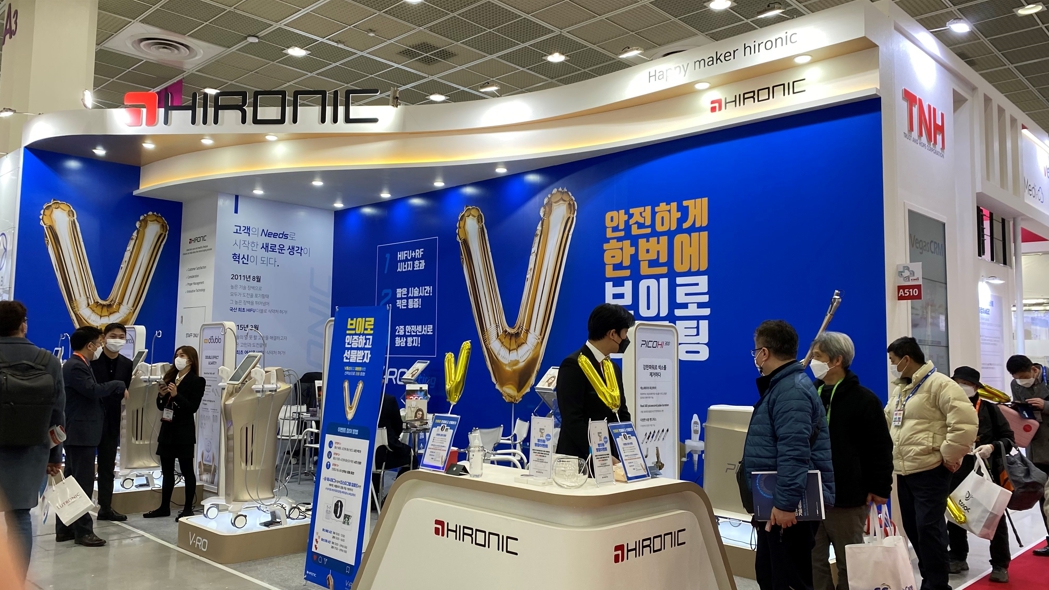 HIRONIC has successfully participated in 'KIMES 2022 (the 37th International Medical & Hospital Equipment Show)' held at COEX in Samseong-dong, Seoul for 4 days from the 10th to the 13th March.
KIMES 2022 is a large international medical and hospital equipment exhibition held in Seoul, Korea. About 1,200 domestic and foreign companies participated and introduced various products such as advanced medical devices, hospital facilities, and medical information systems that reflect the rapidly changing medical environment.
HIRONIC has successfully launched 'NEW DOUBLO', the main equipment capable of performing focused ultrasound (HIFU) and high frequency (RF) treatments simutaneouly.
NEW DOUBLO is a device that shortens the treatment time and further increases the synergy effect of treatment by cross-irradiating the two technologies. In HIFU equipment, a contact sensor is applied in the cartridge, which prevents over-lapping treatment causing side effects. In addition, a pen-type handpiece allows easier to treatment in narrow and curved areas like the face. Moreover, NEW DOUBLO has 7 types of cartridges, so customized treatment for each skin layer is possible.
Other than the newly launched NEW DOUBLO, HIRONIC has displayed PICOHI (FDA and CE certified) and GENTLO (CE certified) – leading to another successful year with KIMES.