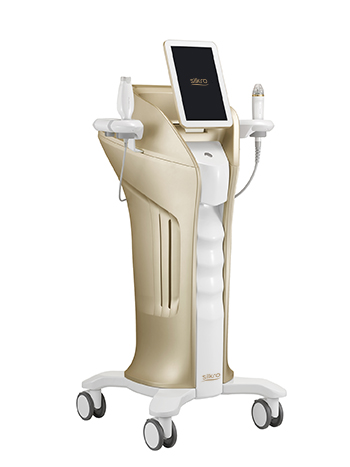 Hironic, a company specializing in beauty medical devices, announced on 8th that its all-in-one radio frequency device  'Silkro (Korean model name 'Gentlo')' has obtained U.S. Food and Drug Administration (FDA). After being certified with European CEMDD in July last year.
​
"Silkro" is an all-in-one radio frequency solution that not only causes coagulation of cell tissue but also relieves pain by penetrating micro needles into the skin or transferring radio frequency energy into the skin through electrodes on the handpiece. The device has total of four handpieces: RM (RF Micro Needle), RN (RF Needle), RC (RF Circle), and RV (RF Venus).​
Among the four handpieces, the RM handpiece needles penetrates the skin and emits radio frequency energy into the skin. The needle tip comes in 25pin or 49pin needles which give users a choice to use in wide or smaller facial area.
The needle comes in two types: insulated, which energy is transferred only to the target point, and non-insulated, which energy is transferred from the entire needle, allowing the procedure to be designed according to the patient's concerns or skin characteristics.​
In addition, Silkro is equipped with Treatment Information System (TIS), which provides convenience with functions that manage the history of procedures such as the type of handpiece, energy value, and number of times used automatically when patient information is entered.​
An official from Hironic said, "Silkro is certified with CE MDD certification, and now has obtained U.S. FDA approval. This is a start for Hironic's radio frequency technology to expand in global market". He also added that with FDA approval, the company will target the North American market, which accounts for more than 40% of the global beauty and medical device market, as well as achieve high sales and long-term corporate growth."​​