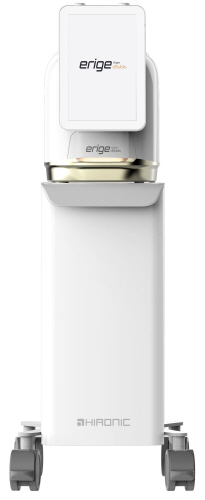 Hironic Co. Ltd, a medical aesthetic specialized company, launches a new product "ERIGE TM" along
with giving official status to the overseas market expansion.
The new product 'ERIGE TM' is the device that delivers thermal energy into the skin by repeatedly irradiating HIFU and RF
by leaving a time lag in one handpiece.
It is a patent application device that allows HIFU (high intensity focused ultrasound) and RF (Radio Frequency) energy,
which had to be treated with different equipment, to be treated with one hand piece.
As HIFU and RF treatments become available in one hand piece, pen-type hand piece makes the procedure easier to
treat the narrow area and curved areas of the face with shorter treatment time.
Also, it is equipped with a moving sensor to reinforce safety by blocking the energy without movement during the treatment
and available to treat in different skin layers using various cartridges.
Reflecting these effects, Hironic made a contract of ERIGE TM supply with the largest beauty medical device vendor in China
and receives product inquiries from Hongkong, Vietnam, India, and all over the world. 
Staff in the industry says, "Global Beauty industry is expected to grow significantly compared to the same period last year due to the base effect of the previous year
and expectations of overcoming COVID -19, and World medical aesthetic market trend will be changed by new upgraded HIFU + RF device,
which has launched by Hironic.", and emphasizes "It is possible to sale 300 to 500 units of ERIGE TM per year."